Leave your bins out for collection in a clearly visible place at the edge of your property by 6.30am on collection day. Please note we work as normal on bank holiday Mondays and Good Friday.
What happens if a collection is missed?
Right thing, right bin

Why it's important to put the right thing in the right bin.
Weekly collections
 Mixed recycling in your green wheelie bin. Paper, card, cartons, cans and plastics (see webpage or leaflet for details). NO GLASS, NO FOOD, NO TEXTILES.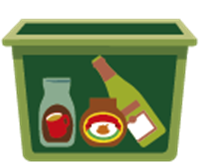 Glass recycling in your recycling box. Glass bottles and jars ONLY.

 Textiles, clothing, shoes and accessories recycling in a clear, sealed, labelled bag by your other recycling.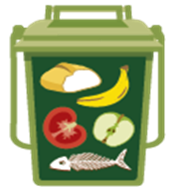 Food waste recycling in your food bin. All food waste except bulk liquids (like large amounts of milk or soup). No packaging, but you can wrap your food waste in plastic bags.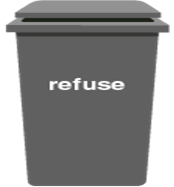 Refuse in your black wheelie bin. If it can't be recycled in your other bins. NO FOOD WASTE.
Fortnightly collections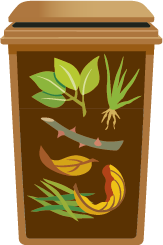 Garden waste and leaves in your brown wheelie bin. A fortnightly, chargeable service for subscribers only. Check your garden waste collection week. We will send a new garden waste calendar each March.
Right thing, right bin
More than ever, it's incredibly important to put the right thing in the right bin. For help, see the webpages above, or download the leaflet attached below.  What if your bin has the wrong waste in it?
Learn more
Services to flats
Please see the labels on your bins, and your service leaflet, for full details of your recycling and refuse service.
Other options for recycling and waste