All houses in the Borough have now had the Big Switch to your new collections service, called Simply Weekly Recycling.  Here's how it works.
Leave your bins out for collection in a visible place at the edge of your property by 6.30am on collection day. Please note we work as normal on bank holiday Mondays and Good Friday. Christmas and New Year's weeks collections may vary and will be notified here nearer the time.
Weekly collections
Mixed recycling in your green wheelie bin. Paper, card, cartons, cans and plastics. Textiles in a bag by your bin. NO GLASS.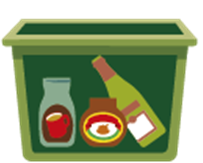 Glass recycling in your recycling box. Glass bottles and jars ONLY.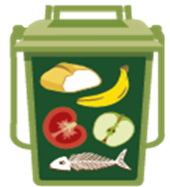 Food waste recycling in your food bin. All food waste.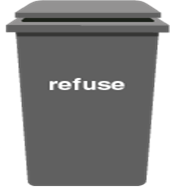 Refuse in your black wheelie bin. If it can't be recycled in your other bins. NO FOOD WASTE PLEASE.
Because these are weekly collections you will no longer need a collections calendar. You can simply choose whether or not to put each bin out on collection day.
Fortnightly collections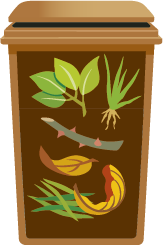 Garden waste and leaves in your brown wheelie bin (reusable garden waste sacks are also available). A fortnightly, chargeable service for subscribers only. Check your garden waste collection week. Please note that we will send a garden waste calendar for the remainder of the year to all households during June/July. We will then send you a new calendar each year.
The right thing in the right bin
More than ever, it's incredibly important to put the right thing in the right bin.  What if your bin has the wrong waste in it?
Learn more
Services to flats
We have made the Big Switch to all houses first. From July, we will start to convert flats to Simply Weekly recycling on an individual basis. This may take some time to complete through the summer and autumn.
Just carry on using your recycling and refuse services as normal in the meantime. You'll know when we've made the Big Switch because we'll re-label your bins and give you a leaflet telling you about the change. It will make recycling simpler and more convenient.
Other options for recycling and waste