This is a fortnightly, chargeable service for subscribers only. Alternatively, you may consider:
You can choose from two types of recycling container. Subscriptions are based on a twelve-month, non-refundable agreement. There is no limit to the number of containers that you can subscribe to.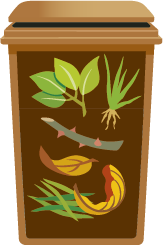 240-litre wheeled bins cost £51.50 each per year, or £47 if paid by Direct Debit.
 60-litre reusable sacks cost £12.90 each per year, or £11.75 if paid by Direct Debit.
Leave your bin or bag out for collection in a visible place at the edge of your property by 6.30am on collection day. Please note we work as normal on bank holiday Mondays and Good Friday. Christmas and New Year's weeks collections may vary and will be notified here nearer the time.
Please recycle:
Grass cuttings
Small twigs and branches
Leaves
Prunings and clippings
Flowers, plants and weeds
Straw and hay (provided they are not contaminated with animal waste)
Please don't recycle:
Branches thicker then your wrist (three inches/7.5 centimetres)
Plant pots or any plastics. Recycle these in your green recycling bin
Soil, stones or ashes
Fallen fruit or any food, even if grown in your own garden. Recycle these in your food waste bin
How to join
Download our garden waste recycling leaflet with Direct Debit Mandate, or click the service request link to join and pay online.
A 50% discount is available for recipients of certain means-tested benefits. You must apply for this discount in person at the Town Hall. You must provide an original document as proof of benefits.
Who can join?
All households in the Borough can join, as can schools, churches and charities. If you live in a flat you may wish to consider communal collections. Contact us for details. Collections are not available to businesses.
Renewing your subscription
If you pay by Direct Debit you do not need to do anything. We will notify you each year that we are collecting a further twelve months' subscription.
If you pay by another method we will contact you before your subscription expires, to ask whether you wish to renew it for a further year.
What happens to your recycling? Do you want to recycle leaves only?