The Big Switch is coming to you
From May we'll start to roll out the Big Switch to our new collections service, called Simply Weekly Recycling.  You'll need a bigger bin for recycling but you won't need so much space for refuse. So we'll switch your green and black bins when the new collections start, and your weekly collections will look like this:
Mixed recycling     Glass only         Food          Refuse
Garden waste and leaves will continue to be collected fortnightly, by subscription, as now.
How will I know that it's happening for me?
Watch out for the labels on your bins so you'll know when the Big Switch is happening for you. There are two simple steps:
Week 1: it's your normal refuse week

We'll empty your refuse bin as normal. But we'll put it back with a sticker on the lid. The sticker will show you that the next week we need you to put both your black and green bins out for the Big Switch.

Please put your recycling box and food bin out as normal too.

Week 2: it's Big Switch week!

Put your black bin, green bin and recycling box out even if they're empty, because we'll be re-labelling them for the Big Switch. Put your food bin out for collection as normal:

Your green bin will have a sticker saying 'This is now your recycling bin'
Your recycling box will have a cover on it saying that it is now just for 'Glass recycling ONLY'
Your black bin will have a sticker on it saying 'This is now your refuse bin'
The Big Switch has now happened! Just follow the labels straight away and you're already using Simply Weekly recycling. And remember, collections will be weekly from now on (except garden waste and leaves).
You'll also get a handy guide to remind you of the changes.
When will I get the Big Switch?
We're making the Big Switch in three phases:
PHASE 1 is for houses with a red-tabbed '25/28' collection calendar (see map below).  The Big Switch has now happened for you and you can start using Simply Weekly Recycling immediately. Please note that residents of flats won't see the Big Switch until July (see below).
PHASE 2 is for houses with a blue tabbed '26'27' collection calendar (see map below). You'll get the Big Switch in June:
Week 1 = stickers on your green bin, week commencing Monday 12 June
Week 2 = the Big Switch itself, week commencing Monday 19 June
PHASE 3 is for flats (irrespective of where you live), which we'll start converting to Simply Weekly Recycling on a block-by-block basis from July onwards. You'll receive a full service leaflet advising you of the change, and your bins will be adjusted accordingly.
This map tells you which area you are in. You can also check your collection calendar.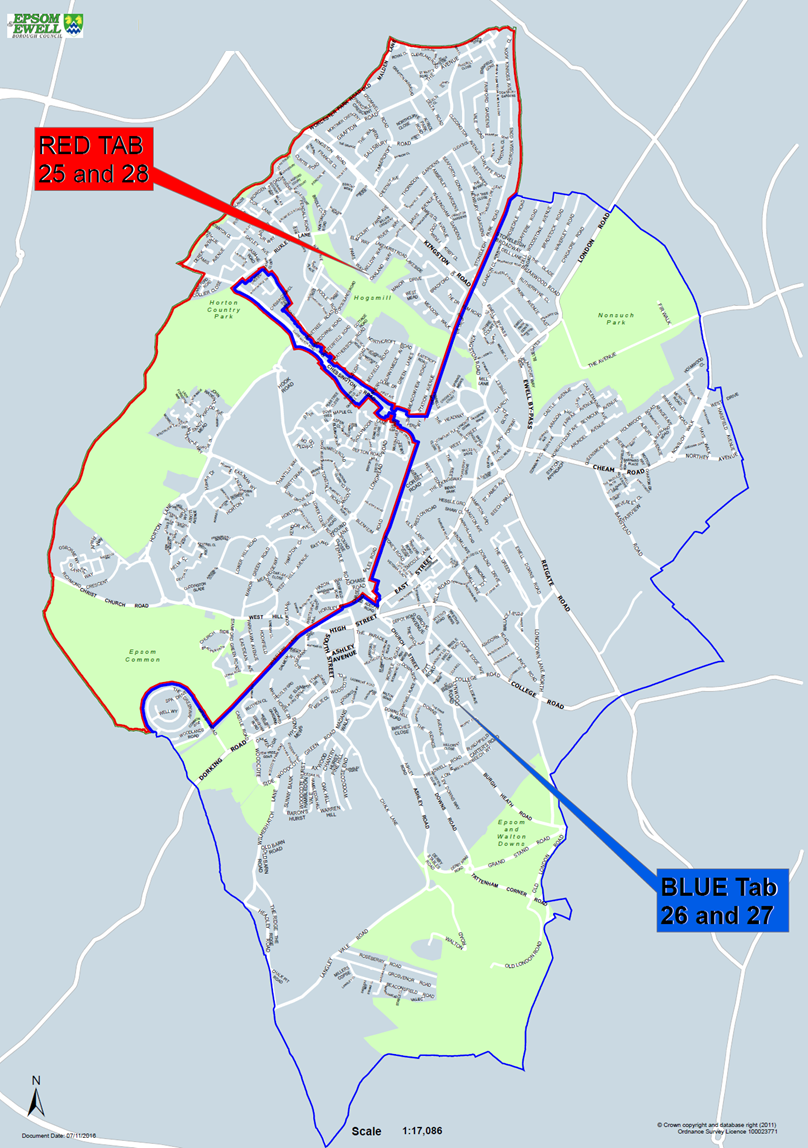 A handy reminder of this information is in your spring edition of Borough Insight. Read an interactive version.